Hello!
Nice to see you here. It must mean you're looking become a member of our World of Warcraft guild.
Here are a few things you should be aware of before you continue!
Neon is the oldest and most stable horde PvE raiding guild on Karazhan EU. The guild currently consists mainly of a core group of friends that have been playing together for more than 7 years, and our main goal is to have fun while playing World of Warcraft.
Although we are a casual guild, we aim to be one of the leading guilds when it comes to progression on the realm. What we mean by this is that we strive to keep a drama-free, laid back atmosphere both in and out of raids. There will be joking and off-topic chatter in our voice comms during raids. If this is something you can't stand, then we might not be the home you're looking for. And while there is a time for joking there are also times when things need to get serious. One of the main qualities that we look for in our members is that they know the difference.
We put teamwork above all else, so if you think you are a teamplayer – this might be the guild for you.
We will consider ALL classes and specs if you back your application up by good logs from WoL, or if we consider you an exceptional applicant.
Raid times
Main raids are
Thursday
Sunday
The raid invite time is at 20.00 game time, 20.15 the raid commences and ends at 23.00.
The end time is sometimes prolonged up to 30 mins in favour of progress.
There is usually a 10 minute break at around 21:30.
We also run a Mythic+Monday where we organize our members into separate M+ teams in order to ensure +10 clears for as many people as possible every week. The invite time is the same as for raids, and the groups decide amongst themselves how long they go on for.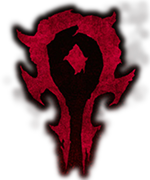 What can we offer?
The oldest and most stable Horde guild on Karazhan EU.
Over ten years experiences with raiding the end game content.
Quite laid back guild enviroment with 18+ age requirement.
A great community to hang out in, relax and play all sorts of games. Not just WoW!
Guild bank repairs for all raiders on ALL progression raids.
Significantly discounted BoE items and consumables for dedicated raiders.
What do we expect?
We are demanding a 50% raid attendance.
Eagerness to progress through the content even if that means to die a lot .
Aspire to be a min-maxer. That means always looking for gear and playstyle improvements.
The willingness to learn new ways, ability to listen, take the criticism and not repeat the same mistakes again.
Thorough knowledge about your class and spec. Awareness of its' strengths and weaknesses.
To be able to understand spoken English.